Proper fingering and posture is the most important parts of learning piano. However some beginners and even advance level students often overlook these aspects and this is one of their biggest mistakes. Proper fingering and posture is one phase of complete guide to learn piano. You can gain these skills by following instructions and rules that we have mentioned here in this page.

Come up with your own fingering!
No two individuals can be same and thus not even their hands. Something that might feel complete comfortable for your hand may not be a relaxing positioning for other. So it is important that you should have your own fingering over piano that makes you most comfortable. If you have fingering mentioned by instructor over music sheet and you are not comfortable, you may use your own.
Though it is important to follow rules and if you do that you will be able to develop good habits with fingering. Proper fingering is related to the natural hand shape but yet remember that you will only be able to play and sound your best if you are comfortable while playing. No doubt your main goal is to produce beautiful sound.
Rules for Proper Fingering:
Some rules to sound impressive over piano with fingering include:

Natural Position of Hand: The basic rule of fingering over piano is that longer keys are played with the use of shorter fingers and vice versa. So you can use your index, middle and ring fingers to play 2, 3 and 4 keys whereas 1 and 5 can be played by your thumb and pinky fingers.
Learn Scales: Another important aspect of fingering is to know all the scales and knowledge of scales would enable you to play with effective fingering. Scales are base of any music and when you know scales well, your fingers would know where to start and where to end thus would know when and where to go.
Know Arpeggios Fingering: You can easily learn proper fingering for playing arpeggios that are broken chords. This is similar to knowing your scales. You not only should know your chords but also their inversions.
Balance both Hands for Fingering: For hands moving in opposite direction, you will be able to naturally change position of both of your hands simultaneously. This would also ease up the process of remembering passages for example ones where your thumbs coincides.
Consistency and Repetitions: It would be best if you remain consistent with the use of your fingers for playing repeated keys. You may even compromise other rules in order to remain consistent with fingering. This would usually happen when you are playing some fast passages where you may disrupt pattern of fingers and may commit mistakes.
Remember Colors for Fingers: One of the best methods is to have a color for each of the five fingers. When you change fingers for a certain passage, sound will be dramatically changed. So it is best to assign colors for each fingers and this would ease up fingering and would make you more expressive and creative.
Writing down Fingers: When you right down fingers, you will be able to support your memory for proper fingering and consistency would be maintained throughout practicing and performances. As you sight read a passage, the first thing you should do after that is to write down fingering. This way any time you will play that passage, you will be able to check fingering of each note and following that you will produce same sound each time.

Rules for Proper Posture: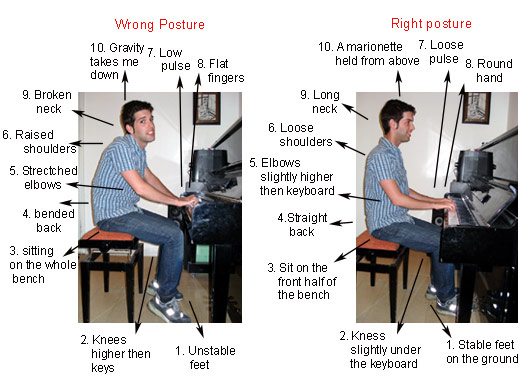 Apart from fingering, another important aspect is maintaining a proper posture for playing piano. Some tips for proper posture:
Make sure that you have a proper bench for comfortable sitting in front of your piano.
Sit on bench's half front with your feet placed firm on the floor for proper balancing while playing the instrument.
As you have your hands over keys, make sure that your elbows are faced slightly in front of your body. Having them on sides means that you are too close to keys and with your arms completely stretched means that you are too far.
Sit straight with your back tall and no drooping. As you begin to play piano keys, you may slightly lean forward.
Shoulders and arms should be relaxed.
Bench height must be set at a level that allows your arms to be comfortably placed over keys. Upper portion of your body should be at relaxed state in order to play piano easily and effectively.
No matter what technique of fingering or posture you follow, it is important that pianist should be comfortable and relaxed as he plays piano with completely stable body.